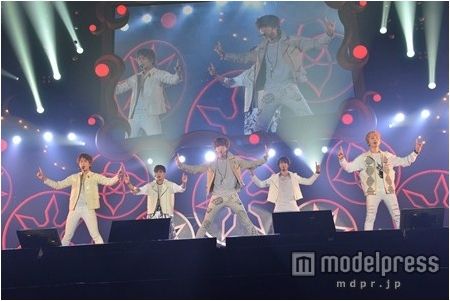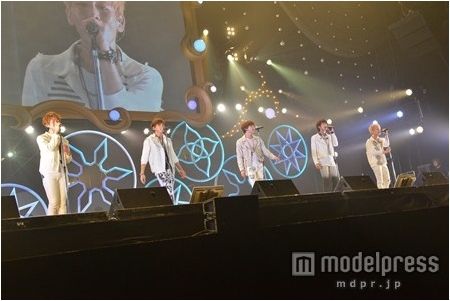 5 member K-Pop boy group SHINee made their appearance in the music event, "MUSIC FOR ALL, ALL FOR ONE", that was held in Yoyogi National Gymnasium in Tokyo on the 23rd.
Composed of Onew, Jonghyun, Key, Minho, and Taemin, SHINee debuted in 2008 in Korea. In June of last year, they accomplished to debut in Japan. They were one of the key performers for this event and performed the pop dance track "Dazzling Girl" as their first song, gaining the biggest applause from the audience that day.
Through the echoes calling out for SHINee, they continued by singing their debut song, "Replay - You're My Everything-". During the talk segment, Taemin commented, "I'm really happy to meet everyone by being on such a big stage." With an innocent smile, Key added in fluent Japanese, "I'm really glad that we're standing on the same stage as other great artists. Hot, isn't it? Everyone in Yoyogi is the best! This is off topic, but the temperature in Seoul is as low as -10℃. When we arrived in Tokyo, only the 5 of us looked like Eskimos. It was embarrassing. I'm sorry, this is just a trivial topic."
"I'm grateful that through music, I get to go to various countries and meet everyone like this," Jonghyun commented. Onew shared, "We've been doing our activities from June last year and throughout this one and a half years, I've had a lot of wonderful memories. Yoyogi is a place that I won't forget." Minho said, "Because of everyone, I got to make another precious memory."
Following their synced performance of "Sherlock" was their new song, "1000 Years, Always be by My Side...", which was released on December 12th. As the high notes reverberated, the gymnasium transformed completely into SHINee's color as green lightsticks lit up, drawing in the fantastic mood.
SHINee reappeared on the stage again as the call for encore wouldn't stop and they showed an all out performance of "Lucifer". They closed their stage by greeting, "Merry Christmas! See you again!" in the end.
"MUSIC FOR ALL, ALL FOR ONE" is a live event that involves various impressive artists brought together by the sponsor, the big digital distribution site, "Recochoku" who also gains cooperation from all recording companies and music media. Last year, with the concept of "The unforgettable Christmas for the year that shouldn't be forgotten", artists that made their appearance delivered strong messages through "music", transferring the power to have the event continue on the following year.
■ SHINee's Set List
1.Dazzling Girl
2.Replay -You're My Everything-
3.Keeping Love Again
4.JULIETTE
5.Stranger
6.Love Like Oxygen
7.Sherlock
8.1000 Years, Always be by My Side...
Encore: Lucifer
Source
:
Modelpress
Translated by
: red @ shineee.net